I JUST found out Web of Desire is released in a new EC print book, Paranormal Passions.  Check out the cool cover!!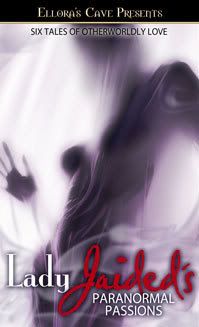 | | |
| --- | --- |
| Lady Jaided's – Paranormal Passions | up |
By: Cathryn Fox, Cricket Starr, Elisa Adams, Kate Douglas, Mari Byrne, Michelle Pillow
(Read Excerpt)
E-mail this product to a friend
The Doll
By Cricket Starr
A young woman finds a wooden figure that reminds her of a childhood toy, but there is nothing childish about the invisible stranger who visits soon after she brings the doll home. Soon all her sexual desires are met, except the one she wishes the most—that her unseen lover was real.
More Than a Hunch
By Kate Douglas
Nita Franklin's dreams have gone from sensual to wildly erotic. It might be the change, but this intrepid reporter is convinced it's something more. When she meets the object of her nightly passion in person, she learns the truth—Martin Hawley, wealthy, sexy San Francisco aristocrat, wants Nita to help him find his kidnapped daughter.
And he's well aware of the sensual dreams. He's having them, too…
Review quotes for More than A Hunch by Kate Douglas
"…a very, very hot short story. There are some very interesting twists that make it stand out from the pack…blending of suspense, character and sex is a great example of the quality work that Elloras's Cave produces."
~Ann Leveille, The Best Reviews
"…rich in its description and sultry in its sensuality; story telling at it's best. …I will definitely be looking for more works from Kate Douglas."
~Lue Anne Adams, All About Murder Reviews
"…This quickie starts off hot and doesn't let up from there. …the heroine wasn't an 18-year- old virgin, but a real woman. The connection between the main characters is strong and hot."
~Laura Lane, Courtesy Sensual Romance
Death Reborn
By Mari Byrne
He fell in love with her twenty years ago, the first time he almost had to claim her. Now Death, the Grim Reaper, covets the mortal woman for himself…
Review quotes for Death Reborn by Mari Byrne
"… a passionate and loving tale of a second chance at life and love. …as poetic at times as Shakespeare himself, while still as hot as the loyal readers of Ellora's Cave demand."
~Michelle Houston, Sensual Romance
"…enticing, seductive and very erotic…. Author Mari Byrne pens an erotic tale that fans the flames and heightens desires."
~Michelle Gann, The Word On Romance
"Ms Byrne gives the reader a very vivid love story and the belief that all things are possible."
~Diane T., The Romance Studio
Dream Stalker
By Elisa Adams
Desperate to be free from the nightmares that have been plaguing her since childhood, Alex volunteers for an experimental treatment designed to release people from the dreams that haunt them at night. When the killer in her mind is mistakenly set free into reality she'll do anything she can to destroy it, even if it means working with a man she knows she can't trust, a man who played a part in the killer's release.
Scorched Destiny By Michelle M. Pillow
And one shall free him by succumbing to the passions within…
Lucienne's family has searched for centuries to liberate the ancient djinn imprisoned beneath the Arabian sands. Once free, the djinni Nadir will be her slave, forced to grant her every wish, her every desire, her every decadent whim. But in order to control him, she must first prove she has enough passion to make her worthy of being his mistress.
Web of Desire
By Cathryn Fox
Something Wicked…
When Ally Shears, a good witch of Belhaven, discovers her old flame Tanner Cage captured in a silky web courtesy of her wicked witch of a cousin, she concocts a plan to make him pay for deserting her a decade ago.
Tanner is a prisoner to her desires and with the help of a table full of sex toys, Ally's ready to try everything she missed out on years ago. Everything…
But when the captive suddenly becomes the captor, Ally finds herself tangled in a web of desire—of her own making.